PlayerUnknown's Battlegrounds (PUBG) is an online multiplayer battle developed by royale game and published by PUBG Corporation. 
PUBG was launched in 2017, firstly it was released for Microsoft Windows via Steam's early access beta program. 
PUBG delivers the most intense free-to-play multiplayer action on mobile. Drop in, gear up, and compete. Survive epic 100-player battles, and fast past 4v4 team deathmatch and zombie modes. Last one standing wins a Chicken Dinner Too.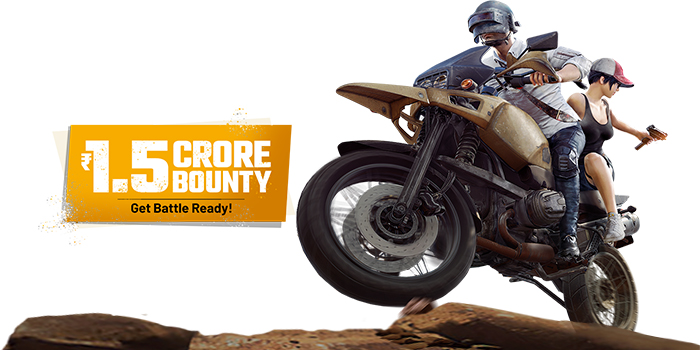 Currently the active installs of the PUBG are 100,000,000+ 
Now PUBG has arranged a tournament with the OPPO. The OPPO x PUBG MOBILE India Tour is bigger than ever! This battleground is all set to test your skills against India's toughest players. 
And the final Winners will walk away with a prize-pool of INR 1.5 Crores and the ultimate bragging rights. 
The Prize list for OPPO x PUBG MOBILE India Tour are as follows
WINNERS OF GRAND FINALS

1st
₹50,00,000
11th
₹60,000
2nd
₹20,00,000
12th
₹60,000
3rd
₹10,00,000
13th
₹60,000
4th
₹5,00,000
14th
₹60,000
5th
₹3,00,000
15th
₹60,000
6th
₹2,50,000
16th
₹40,000
7th
₹2,00,000
17th
₹40,000
8th
₹1,50,000
18th
₹40,000
9th
₹1,00,000
19th
₹40,000
10th
₹,100,000
20th
₹40,000
Not only the Top 20 Gifts, there are some surprising gifts for the best performer. Following are the other prize details for OPPO x PUBG MOBILE India Tour
The Chosen One ₹50,000 Awarded to the player with maximum number of MVP's
The Annihilator ₹50,000 Awarded to the player with maximum number of damage
The Wanderer ₹50,000 Awarded to the player with maximum foot travel
Headshot Expert ₹50,000 Awarded to the player with maximum headshots
The Exterminators ₹100,000 Awarded to the squad with maximum number of kills
The Grenadiers ₹100,000 Awarded to the squad with maximum number of grenade kills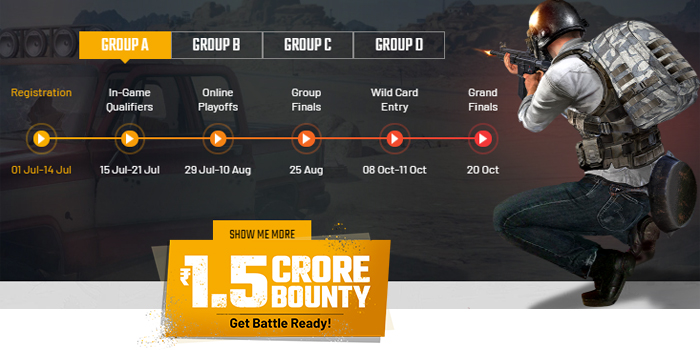 This tournament will start from 1st July and ends in October. The events will take place in Jaipur, Guwahati, Pune and Vizag. The final game will be hosted in Kolkata.
So what are you waiting for Join Today and Win Amazing Prizes. 
Before registering yourself, read the following Terms and conditions for the tournament 
Terms & Conditions
The Player must be an Indian resident.
The Player must have an account of at least level 20, and must be Platinum V or above.
The Player must be part of a squad. Minimum squad size is 4.
Players must install the newest version of the game. Updates must be installed before the tournament starts.
Players must use their own devices while playing  In-Game Qualifiers and Online Playoffs
Players are responsible for their own technical issues (hardware/internet).
Technical Conditions:
Camera restrictions: FPP, TPP
Server Region: Asia
Casting a match is only permitted with approval from Tencent Games.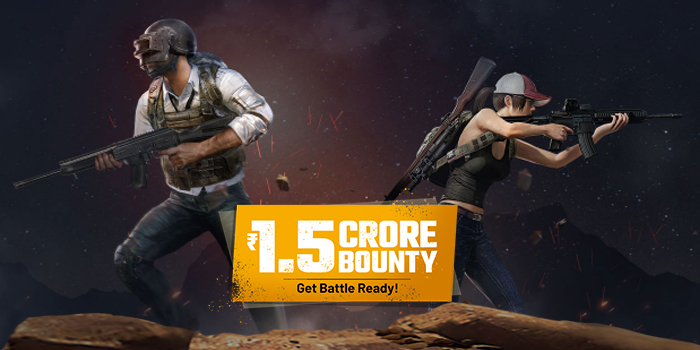 Following are reasons for the disqualification from the PUBG & Oppo Tournament
Do not show up at scheduled start times.
Purposely stall or attempt to block the tournament from starting.
Using emulators or any other kind of third-party tools/hacks which allow them to play the game on a PC. If you do this you and your entire squad will be disqualified.
Intentionally use bugs, glitches, or errors. First offences of this type will result in a squad forfeiting their game. Second offences will result in elimination from the event and all future events.
Add, modify, or remove game files from their intended state.
Intentionally change their character's angle to look through texture or object. Players are not allowed to set two actions to the same key in key bindings.
Indulge in betting during the course of the tournament (by a player, squad, or on behalf of anyone associated with a squad). Betting will result in disqualification from the tournament and a six-month ban.
Undertake personal streaming without prior approval from Tencent Games. This offence can lead to squad disqualification, or a tournament ban for the offender.